Cardiac CT (cardiac computerized tomography) is a non-invasive scan that provides stunningly crisp, clear 3D images of the coronaries, valves, chambers, and myocardium. This 15-minute, non-invasive process, Cardiac CT is now strongly supported by insurers and is far easier for patients than painful, invasive diagnostic angiograms. Dr. Morales and his team in Tampa, Florida use Cardiac CT as the front-line, non-invasive test for diagnosing, therapy planning, and monitoring of cardiovascular disease.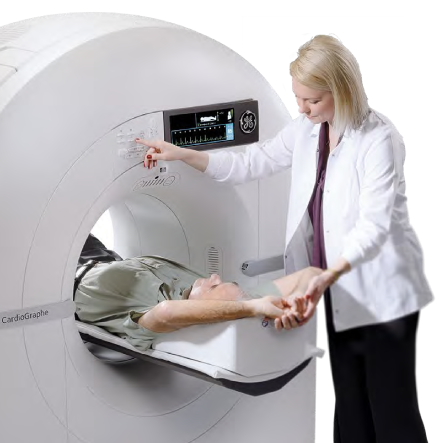 Arineta Cardiographe
World's only dedicated, one-heartbeat, whole heart Cardiovascular CT scanner.
Arineta Cardio Imaging and using our proprietary Stereo CT™' technology, the system delivers the highest performance and image quality for Cardiac CT.
Key specifications and unique capabilities:
• 14 cm axial coverage per rotation
• 560 slices with high resolution
• Ultra-fast rotation speed of 0.24 sec.
• Cardiac optimized workflow
What is a Cardiac CT Scan?
A Cardiac computerized tomography angiogram (CTA) is a non-invasive, 15-minute scan that uses advanced CT imaging, along with intravenous contrast material (dye) to obtain crisp, high resolution, 3D images of the moving heart and great vessels.
CTA is commonly used as a non-invasive method for detecting blockages in the coronary arteries. A CTA can be performed much faster and with far less risk and discomfort than an invasive cardiac catheterization.
At South Tampa Cardiology we use the state-of-the-art Cardiographe CT Scanner, the world's first single-beat CT scanner. With the imaging based on a single heartbeat, the CardioGraphe provides stunningly clear images of the coronary arteries with a much lower dose of radiation than other CT scanners. This new technology has consistently shown the ability to provide early detection and diagnosis of Coronary Artery Disease while reducing the amount of contrast and the need to administer beta blockers.
Are There Risks Involved in Cardiac CT Scans?
Risks involved in Cardiac CT Scans include:
Rare allergic reactions to the contrast dye
A slightly increased risk of cancer due to the X-ray radiation
Breathing problems for those with respiratory disorders if beta blockers are used during testing
What Does a Cardiac CT "see"?

Detects blockages in the coronary arteries
Detects blockages in the vascular arteries (Peripheral Artery Disease – PAD)
Detects serious problems with the thoracic and abdominal aorta
Detects serious problems with the pulmonary arteries
Detects serious problems with the sac around the heart (pericardium)
Detects serious problems with the heart muscle
Detects serious problems with the heart valves
Detects serious problems with the lungs, mediastinum, and esophagus
What Should I Expect
During A Cardiac CT Scan?

Typically, you continue taking most medications but should avoid caffeine and smoking for about 4 hours prior to testing. Dr. Morales or a South Tampa Cardiology team member will supply you with precise preparation instructions. Since CT scanners use X-rays, advise Dr. Morales if you are or may be pregnant.
You may be given medications called beta blockers prior to the procedure to slow your heart rate.

During the procedure, you'll have electrodes attached to your chest to monitor your heart rate.
You may receive a contrast dye injection to improve images of your coronary arteries. The dye may cause a metallic taste in your mouth or a feeling of warmness through your body.
While lying on the CT scanner's table, the table moves into the large, doughnut-shaped scanner housing as it creates images.
The scan itself takes about 15 minutes but with preparation time, the entire process may take more than an hour.
ACCEPTED INSURANCE PROVIDERS

If you don't happen to see yours listed, please call our office to speak with one of our knowledgable staff members.