SERVICES
Nuclear Cardiology
Nuclear stress tests add to the information given through a conventional exercise stress test. Since the nuclear test involves radioactive dye, Dr. Alberto Morales and the team at South Tampa Cardiology in Tampa, Florida, use this technique only as necessary, when results from conventional testing is inconclusive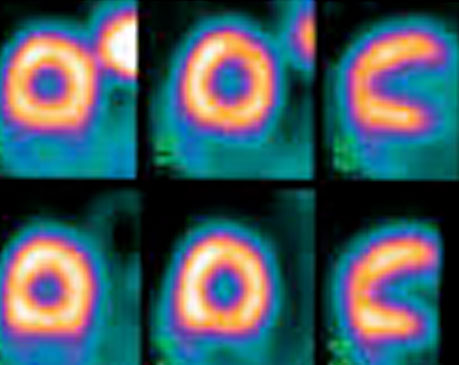 Why Are Nuclear Stress Tests Done?
A nuclear stress test provides visual feedback on heart performance.
An exercise stress test provides valuable information about a patient's heart health and how it reacts under more extreme conditions. However, routine exercise stress tests measure body conditions externally. Heart rate, blood pressure, and respiration are measured with external sensors, so these don't provide any visual feedback on heart performance.
A nuclear stress test adds images of the heart, usually 2, one at the start of the test and another at peak heart effort, either through exercise or drug stimulation. Radioactive dye is injected into the patient's bloodstream to create an environment from which images can be made. These images help Dr. Morales diagnose coronary artery disease with greater accuracy, as well as displaying the size and shape of the heart. Nuclear cardiac images also aid in the development of treatment options for other heart conditions.
Are There Risks Involved with Nuclear Stress Tests?
Overall, nuclear stress tests are safe, but there are some factors that increase the risk of complications.
Some patients may be allergic to the dye that's injected into the body. Even if there is an allergy, reactions are usually mild.
If a medication is used to stress the heart, rather than exercise, chest pain or a flushing sensation may occur. Generally, those symptoms last briefly but tell Dr. Morales if these occur.
As with conventional exercise stress tests, there's a slight risk of arrhythmia or heart attack being brought on because of the exercise.
What Can I Expect at a Nuclear Stress Test?

Nuclear stress tests may take between 2 to 5 hours.
To prepare for an exercise stress test, bring comfortable, loose fitting clothing and typical walking shoes to wear during the test.
Dr. Morales will advise you about other preparations, which may include not eating, drinking, or smoking for 2 hours or longer before the test.
You may also be asked to avoid caffeine or some medications for 24 hours before the test, if they may influence results.

An intravenous line is inserted into your hand or arm, and electrodes are placed on your body. A blood pressure cuff is placed on your arm.
The radioactive dye is injected into your bloodstream through the IV line.
An image is made while your heart is at rest.
For patients who can't exercise strenuously enough to raise their heart rate sufficiently, a medication is given through the IV.
Otherwise, you will exercise until your heart rate is at its target when the second image is made.

After testing the IV is removed and you're able to return to your regular day. The radioactive dye flushes naturally out of your body.
ACCEPTED INSURANCE PROVIDERS

If you don't happen to see yours listed, please call our office to speak with one of our knowledgable staff members.